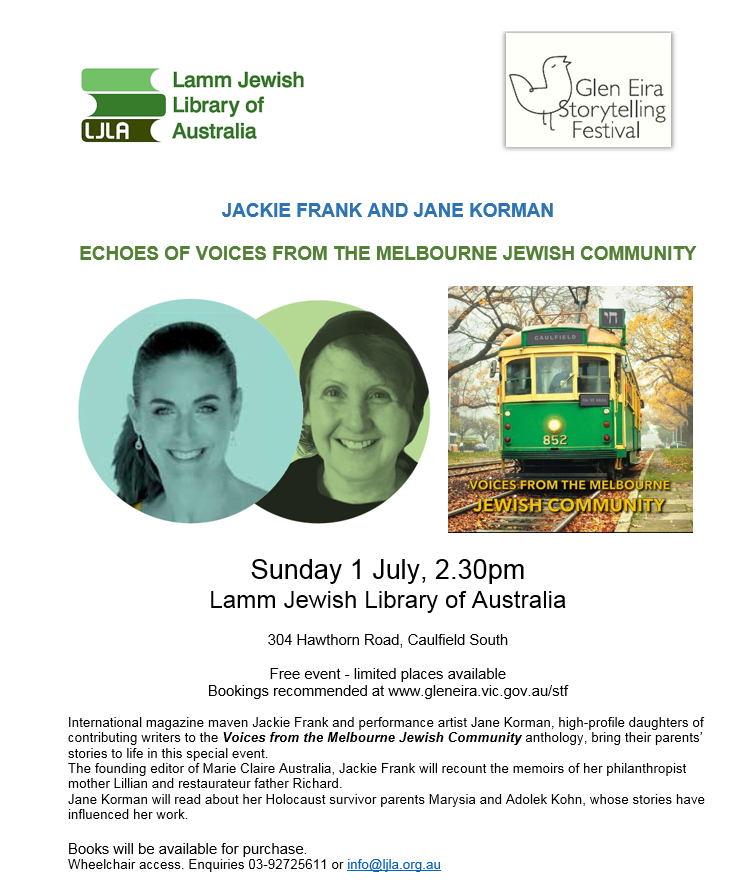 JACKIE FRANK AND JANE KORMAN
Sunday 1 July, 2.30pm
At Lamm Jewish Library of Australia, 304 Hawthorn Road, Caulfield South
Free event – limited places available
Bookings recommended at www.gleneira.vic.gov.au/stf
International magazine maven Jackie Frank and performance artist Jane Korman, high-profile daughters of contributing writers to the Voices from the Melbourne Jewish Community anthology, bring their parents' stories to life in this special event.
The founding editor of Marie Claire Australia, Jackie Frank will recount the memoirs of her philanthropist mother Lillian and restaurateur father Richard.
Jane Korman will read about her Holocaust survivor parents Marysia and Adolek Kohn, whose stories have influenced her work.
Books will be available for purchase.
Wheelchair access. Enquiries 03-92725611 or info@ljla.org.au
Proudly co-presented by City of Glen Eira and Makor Write Your Story program