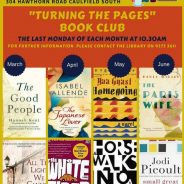 MARCH: The Good People- by Hannah Kent APRIL: The Japanese Lover- by Isabel Allende MAY: Homegoing- by Yaa Gyasi JUNE: The Paris Wife – by Paula McLain AUGUST: All The Light We Cannot See – by Anthony Doerr (DVD) (SEPTEMBER) Early OCTOBER: The White Tiger – by Aravind Adiga OCTOBER:A Horse Walks Into a Bar – by David Grossman NOVEMBER: Small Great Things – by Jodi Picoult
read more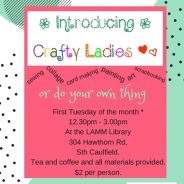 Sewing, collage, card making, painting, art, scrapbooking – or do your own thing First Tuesday of the month (but no session during Pesach or on Cup Day) 12.30pm – 3.00pm At the LAMM Library, 304 Hawthorn Rd, Caulfield. Tea and coffee and all materials provided. $2 per person. Bookings preferred. 92725611 or info@ljla.org.au
read more
JACKIE FRANK AND JANE KORMAN Sunday 1 July, 2.30pm At Lamm Jewish Library of Australia, 304 Hawthorn Road, Caulfield South Free event – limited places available Bookings recommended at www.gleneira.vic.gov.au/stf International magazine maven Jackie Frank and performance artist Jane Korman, high-profile daughters of contributing writers to the Voices from the Melbourne Jewish Community anthology, bring their parents' stories to life in this special event. The founding editor of Marie Claire Australia, Jackie Frank will recount the memoirs of her philanthropist mother Lillian and restaurateur father Richard. Jane Korman will read about her Holocaust survivor parents Marysia and Adolek Kohn, whose stories have influenced her work. Books will be available for purchase. Wheelchair access. Enquiries 03-92725611 or info@ljla.org.au Proudly co-presented by City of Glen Eira and Makor Write Your Story...
read more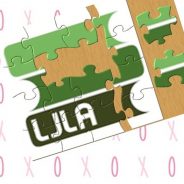 Were you taught to whisper when in a library? "No Need To Whisper" Mornings: Drop in every Tuesday from 10.30.  Free coffee, tea, biscuits and games at the library. Come alone, with a friend or with little ones. Enjoy rummy tiles or card games, scrabble or puzzles, watch a DVD, read a magazine or just mingle – and you don't have to be a library member.
read more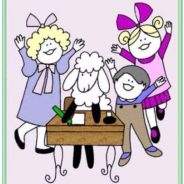 Story Telling every Thursday, From 10:30 am, for 3 years old and under. Come and enjoy the music, toys and story time. Free to all, so come and try! No booking necessary. Parking on site and ramp access.
read more