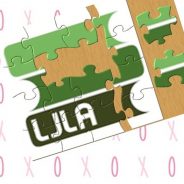 Were you taught to whisper when in a library? "No Need To Whisper" Club: Drop in every Tuesday from 10.30.  Free coffee, tea, biscuits and games at the library. Come alone, with a friend or with little ones. Enjoy rummy tiles or card games, scrabble or puzzles, watch a DVD, read a magazine or just mingle – and you don't have to be a library member.
read more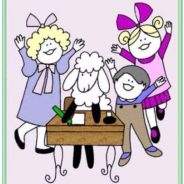 Story Telling every Thursday, From 10:30 am, for 3 years old and under. Come and enjoy the music, toys and story time. Free to all, so come and try! No booking necessary. Parking on site and ramp access.
read more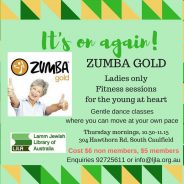 Ladies only Fitness sessions for the young at heart. Gentle dance classes where you can move at your own pace. Thursday mornings, 10.30-11.15 304 Hawthorn Rd, South Caulfield. Cost $6 non members, $5 members Enquiries 92725611 or info@ljla.org.au
read more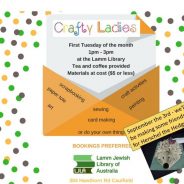 Sewing, collage, card making, painting, art, scrapbooking – or do your own thing! First Tuesday of the month (but no session during Pesach or on Cup Day) 1pm – 3.00pm At the LAMM Library, 304 Hawthorn Rd, Caulfield. Tea and coffee provided Materials at cost ($5 or less) Bookings preferred. 92725611 or info@ljla.org.au
read more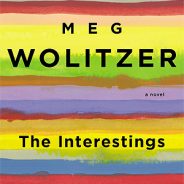 By Meg Wolitzer: The Interestings explores the meaning of talent; the nature of envy; the roles of class, art, money, and power; and how all of it can shift and tilt precipitously over the course of a friendship and a life. The summer that Nixon resigns, six teenagers at a summer camp for the arts become inseparable. Decades later the bond remains powerful, but so much else has changed....
read more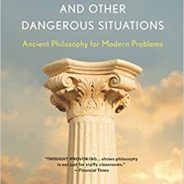 Ancient Philosophy for Modern Problems   by Jules Evans When philosophy rescued him from an emotional crisis, Jules Evans became fascinated by how ideas invented over two thousand years ago can help us today. He interviewed soldiers, psychologists, gangsters, astronauts, and anarchists and discovered the ways that people are using philosophy now to build better lives. Ancient philosophy has inspired modern communities — Socratic cafés, Stoic armies, Epicurean communes — and even whole nations in the quest for the good life. This book is an invitation to a dream school with a rowdy faculty that includes twelve of the greatest philosophers from the ancient world, sharing their lessons on happiness, resilience, and much more. Lively and inspiring, this is philosophy for the street, for the workplace, for the battlefield, for love, for...
read more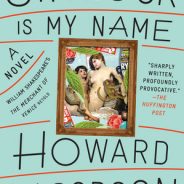 Man Booker Prize-winner Howard Jacobson brings his singular brilliance to this modern re-imagining of one of Shakespeare's most unforgettable characters: Shylock Winter, a cemetery, Shylock. In this provocative and profound interpretation of "The Merchant of Venice," Shylock is juxtaposed against his present-day counterpart in the character of art dealer and conflicted father Simon Strulovitch.  With characteristic irony, Jacobson presents Shylock as a man of incisive wit and passion, concerned still with questions of identity, parenthood, anti-Semitism and...
read more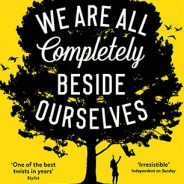 by Karen Joy Fowler, the author of worldwide bestseller The Jane Austen Book Club: you can't choose your family, but they can make choices for you. Big, life-defining choices. Winner of the 2014 PEN/Faulkner Award for Fiction. ***Shortlisted for the Man Booker Prize 2014*** Rosemary's young, just at college, and she's decided not to tell anyone a thing about her family. So we're not going to tell you too much either: you'll have to find out for yourselves, round about page 77, what it is that makes her unhappy family unlike any other. Rosemary is now an only child, but she used to have a sister the same age as her, and an older brother. Both are now gone – vanished from her life. There's something unique about Rosemary's sister, Fern. And it was this decision, made by her parents, to give Rosemary a sister like no other that began all of Rosemary's trouble. So now she's telling her story: full of hilarious asides and brilliantly spiky lines, it's a looping narrative that begins towards the end, and then goes back to the beginning. Twice. It's funny, clever, intimate, honest, analytical and swirling with ideas that will come back to bite you. We hope you enjoy it, and if, when you're telling a friend about it, you do decide to spill the beans about Fern – it's pretty hard to resist – don't worry. One of the few studies Rosemary doesn't quote says that spoilers actually enhance...
read more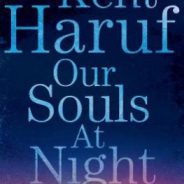 by Kent Haruf 'I loved Our Souls at Night' David Nicholls This is a love story. A story about growing old with grace. Addie Moore and Louis Waters have been neighbours for years. Now they both live alone, their houses empty of family, their quiet nights solitary. Then one evening Addie pays Louis a visit. Their brave adventures form the beating heart of Our Souls at Night, Kent Haruf's exquisite final...
read more