All upcoming events are now cancelled due to the current risk of COVID-19, until further notice. 
Dear Friends of the Library, During these challenging times, everyone here at the Library is thinking of our community and sharing your concern about the rapidly changing COVID-19 situation. Based on the direction from the Victorian government to prohibit the operation of non-essential businesses in order to combat the spread of the virus, we have made the difficult decision to close the library until further notice, and to cancel or postpone upcoming Library programs for the moment. We're sad to close our doors but feel this is the best way to support the health, wellbeing and safety of our visitors, staff and volunteers, as well as the broader community. While we are closed, your current loans will not become overdue and any current reservations will be held for you until such time as we reopen. Items can still be reserved and requested while we are closed. Library members are welcome to borrow e-books. Click on the link for instructions: https://ljla.org.au/how-to-borrow-ebooks/. Email us on info@ljla.org.au to get a barcode and organise a password if you do not already have one. Information about plans to reopen or any other changes that arise will be published on our website, in our e-newsletters and on our Facebook page. If you would like to keep in touch please email us at info@ljla.org.au Dr Rolene Lamm                            Lauren Joffe LJLA Chair                                       Library...
read more
To our wonderful seniors –  Please join us for a delightful melodic morning On the 3rd Wednesday of each month Steve Van will entertain us on March 18 from 11 am Morning tea is provided Bookings preferred – 9272 5611 or book@ljla.org.au   Gold coin donation
read more
Join us for a low-impact, low-to-moderate intensity class suitable for all ages and abilities Led by a personal trainer who has delivered over 5,000 sessions  to people of all ages, abilities, fitness levels, shapes and sizes. These classes are designed so that you can go at your own pace  and enjoy the benefits to your strength, bone density, cognition, mood and overall health. No experience or equipment required Cost $5 from 16th March
read more
Monday, February 24, at 10:30am Nina will lead the discussion on RELIGION FOR ATHEISTS, by Alan de Botton. Reminder … PARKING MAY BE A PROBLEM! *************** March 20, THE FRIEND, by Sigrid Nunez April 27, THE GIFT OF ASHER LEV, by Chaim Potok May 25, SATURDAY, by Ian McEwan June 29, A SCANDALOUS LIFE, by Mary S Lovell NO MEETING IN JULY. August 31, NINA WILL SURPRISE US WITH A GREAT FILM! October 12, THE ELEGANCE OF THE HEDGEHOG, by Muriel Barbery October 26, CITY OF FRIENDS, by Joanna Trollope November 30, THE SCAPEGOAT, by Daphne du Maurier...
read more
ביום שני השלישי בכל חודש בשעה 10.30 בהנחית אורית ברנד Hebrew Story Time  on the 3rd Monday of every month, 10.30 am (17 Feb,16 Mar, 20 Apr, 18 May, 15 June..) Please book on 03-92725611 or book@ljla.org.au Cost: Free
read more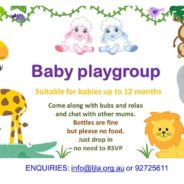 Every Monday from 13th January, 10:30 Suitable for babies up to 12 months Come along with bubs and relax and chat with other  mums. Bottles are fine but please no food. Just drop in – no need to RSVP ENQUIRIES: info@ljla.org.au or 92725611 Gold coin donation appreciated
read more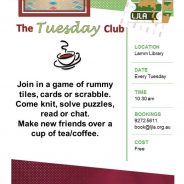 Drop in every Tuesday from 10.30.  Free coffee, tea, biscuits and games at the library. Come alone, with a friend or with little ones. Enjoy rummy tiles or card games, scrabble or puzzles, watch a DVD, read a magazine or just mingle – and you don't have to be a library member.
read more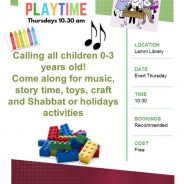 10:30 every Thursday: Calling all children 0-3 years old! Come along for music, story time, toys, craft and Shabbat or holiday activities Free to all, so come and try! No booking necessary. Parking on site and ramp access
read more