Monday, February 24, at 10:30am Nina will lead the discussion on RELIGION FOR ATHEISTS, by Alan de Botton. Reminder … PARKING MAY BE A PROBLEM! *************** March 20, THE FRIEND, by Sigrid Nunez April 27, THE GIFT OF ASHER LEV, by Chaim Potok May 25, SATURDAY, by Ian McEwan June 29, A SCANDALOUS LIFE, by Mary S Lovell NO MEETING IN JULY. August 31, NINA WILL SURPRISE US WITH A GREAT FILM! October 12, THE ELEGANCE OF THE HEDGEHOG, by Muriel Barbery October 26, CITY OF FRIENDS, by Joanna Trollope November 30, THE SCAPEGOAT, by Daphne du Maurier...
read more
ביום שני השלישי בכל חודש בשעה 10.30 בהנחית אורית ברנד Hebrew Story Time  on the 3rd Monday of every month, 10.30 am (17 Feb,16 Mar, 20 Apr, 18 May, 15 June..) Please book on 03-92725611 or book@ljla.org.au Cost: Free
read more
To our wonderful seniors Please join us for a delightful melodic morning 3rd Wednesday of each month at 11.00 am Jenny Elliston – 15th January               Eddie Moses – 19th February         Steve Van – 18th March Morning tea is provided. Cost: Gold coin donation Bookings preferred – 9272 5611 or book@ljla.org.au...
read more
The Lamm Jewish Library and Myer Bloom invite you to the launch of the 144th title to be published by the Write Your Story Program: Sephardi Narratives from Australia Ancient traditions ruptured and reshaped By Myer Bloom To be launched by Jack Levi ('Elliot Goblet') On Sunday, 23 February, 4 pm At the Sepharadi Synagogue, 79 Hotham St., East St. Kilda BOOKINGS: 92725611 or...
read more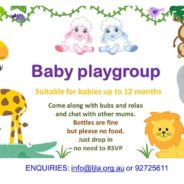 Every Monday from 13th January, 10:30 Suitable for babies up to 12 months Come along with bubs and relax and chat with other  mums. Bottles are fine but please no food. Just drop in – no need to RSVP ENQUIRIES: info@ljla.org.au or 92725611 Gold coin donation appreciated
read more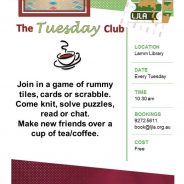 Drop in every Tuesday from 10.30.  Free coffee, tea, biscuits and games at the library. Come alone, with a friend or with little ones. Enjoy rummy tiles or card games, scrabble or puzzles, watch a DVD, read a magazine or just mingle – and you don't have to be a library member.
read more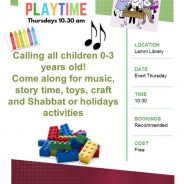 10:30 every Thursday: Calling all children 0-3 years old! Come along for music, story time, toys, craft and Shabbat or holiday activities Free to all, so come and try! No booking necessary. Parking on site and ramp access
read more