ביום שני השלישי בכל חודש בשעה 10.30 בהנחית אורית ברנד Hebrew Story Time  on the 3rd Monday of every month, 10.30 am (17 Feb,16 Mar, 20 Apr, 18 May, 15 June..) Please book on 03-92725611 or book@ljla.org.au Cost: Free
read more
הבית' וספריית לם מזמינים' אתכם להצגת-סיפור לגילאי 2-5 'נרקיס מלך הביצה' עם נירה שפי הפעלה מיוחדת בעברית עם בובות, מוסיקה ותנועה A Hebrew 'story show' 45 minutes activity for 2-5  years old: 'Daffodil the king of the swamp' Presented by Nira Sheffi  in Hebrew Nira will visualize the story and the children can dress up and dance as a character they choose Come to the library on Sunday 2nd February, 3.30 pm to enjoy the show Booking 03-92725611 or book@ljla.org.au, Cost...
read more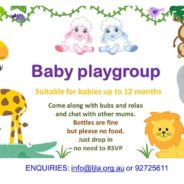 Every Monday from 13th January, 10:30 Suitable for babies up to 12 months Come along with bubs and relax and chat with other  mums. Bottles are fine but please no food. Just drop in – no need to RSVP ENQUIRIES: info@ljla.org.au or 92725611 Gold coin donation appreciated
read more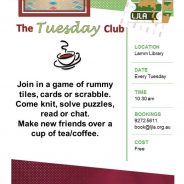 Drop in every Tuesday from 10.30.  Free coffee, tea, biscuits and games at the library. Come alone, with a friend or with little ones. Enjoy rummy tiles or card games, scrabble or puzzles, watch a DVD, read a magazine or just mingle – and you don't have to be a library member.
read more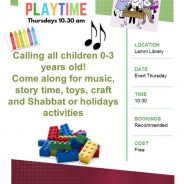 10:30 every Thursday: Calling all children 0-3 years old! Come along for music, story time, toys, craft and Shabbat or holiday activities Free to all, so come and try! No booking necessary. Parking on site and ramp access
read more