A JEWISH IVF JOURNEY
Please join us for this informative panel on IVF and
Judaism on Tuesday 4 June 2019 from 7.30pm.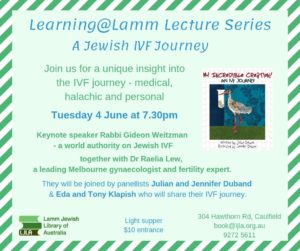 Click here to see our events calendar
שעת סיפור בעברית בספריה בהנחיית אורית ברנד ביום רביעי האחרון בכל חודש, 10:30 Hebrew Storytime Last Wednesday of the month at 10.30 Free, all welcome -בתודה ענקית לאורית ו B for U
read more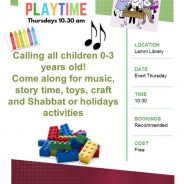 10:30 every Thursday: Calling all children 0-3 years old! Come along for music, story time, toys, craft and Shabbat or holiday activities Free to all, so come and try! No booking necessary. Parking on site and ramp access
read more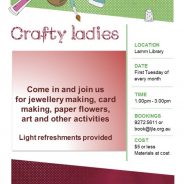 Sewing, collage, card making, painting, art, scrapbooking – or do your own thing! First Tuesday of the month (but no session during Pesach or on Cup Day) 1.00pm – 3.00pm At the Lamm Library, 304 Hawthorn Rd, Caulfield. Light refreshments provided Materials at cost ($5 or less) Bookings preferred. 92725611 or info@ljla.org.au
read more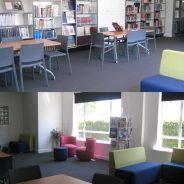 The refurbishment of this room has been proudly made possible by Wolf & Dora Rajcher Memorial Fund. It is now almost ready for meetings, quiet reading or research, film screenings or lectures.
read more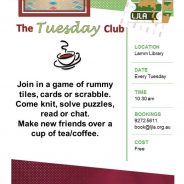 Were you taught to whisper when in a library? "No Need To Whisper" Club: Drop in every Tuesday from 10.30.  Free coffee, tea, biscuits and games at the library. Come alone, with a friend or with little ones. Enjoy rummy tiles or card games, scrabble or puzzles, watch a DVD, read a magazine or just mingle – and you don't have to be a library member.
read more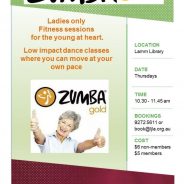 Ladies only Fitness sessions for the young at heart. Gentle dance classes where you can move at your own pace. Thursday mornings, 10.30-11.15 304 Hawthorn Rd, South Caulfield. Cost $6 non members, $5 members Enquiries 92725611 or info@ljla.org.au
read more