What a way to end the year! Join us for a Learning@Lamm evening of delectable cheese and wine and enjoy a lively forum on getting the best out of life. Be inspired by expert advice from our amazing panelists: Zoe Kanat, Mindfulness specialist Minna Lederberger, Motivational speaker Joel Feren, 'The Nutrition Guy' Pam Shapiro, Personal trainer Bookings essential: book@ljla.org.au or...
read more
Just in time for summer holidays! Huge Book Sale Starting Sunday 1st December 1.30 – 5 pm And continuing for one week Thousands of books, most at $2-3 each 304 Hawthorn Road Caulfield Enquiries 92725611
read more
שעת סיפור בעברית בספריה בהנחיית אורית ברנד ביום רביעי האחרון בכל חודש, 10:30 Hebrew Storytime Last Wednesday of the month at 10.30 Free, all welcome
read more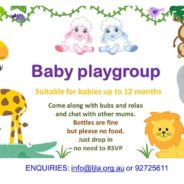 Every Monday from 26th August, 10:30 Suitable for babies up to 12 months Come along with bubs and relax and chat with other  mums. Bottles are fine but please no food. Just drop in – no need to RSVP ENQUIRIES: info@ljla.org.au or 92725611 Gold coin donation appreciated
read more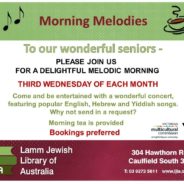 PLEASE JOIN US FOR A DELIGHTFUL MELODIC MORNING Melodies on the 3rd Wednesday of each month, 11 am! Come and be entertained with a wonderful concert, featuring popular English, Hebrew and Yiddish songs. Why not send in a request? Morning tea is provided Bookings preferred – 9272 5611 or book@ljla.org.au
read more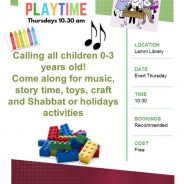 10:30 every Thursday: Calling all children 0-3 years old! Come along for music, story time, toys, craft and Shabbat or holiday activities Free to all, so come and try! No booking necessary. Parking on site and ramp access
read more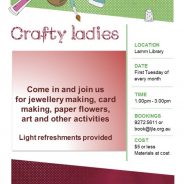 Sewing, collage, card making, painting, art, scrapbooking – or do your own thing! First Tuesday of the month (but no session during Pesach or on Cup Day) 1.00pm – 3.00pm At the Lamm Library, 304 Hawthorn Rd, Caulfield. Light refreshments provided Materials at cost ($5 or less) Bookings preferred. 92725611 or info@ljla.org.au
read more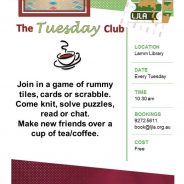 Were you taught to whisper when in a library? "No Need To Whisper" Club: Drop in every Tuesday from 10.30.  Free coffee, tea, biscuits and games at the library. Come alone, with a friend or with little ones. Enjoy rummy tiles or card games, scrabble or puzzles, watch a DVD, read a magazine or just mingle – and you don't have to be a library member.
read more
Ladies only Fitness sessions for the young at heart. Gentle dance classes where you can move at your own pace. Please bring a water bottle Thursday mornings, 10.30-11.15 304 Hawthorn Rd, South Caulfield. Cost $6 non members, $5 members. First 3 lessons are free! Enquiries 92725611 or info@ljla.org.au
read more