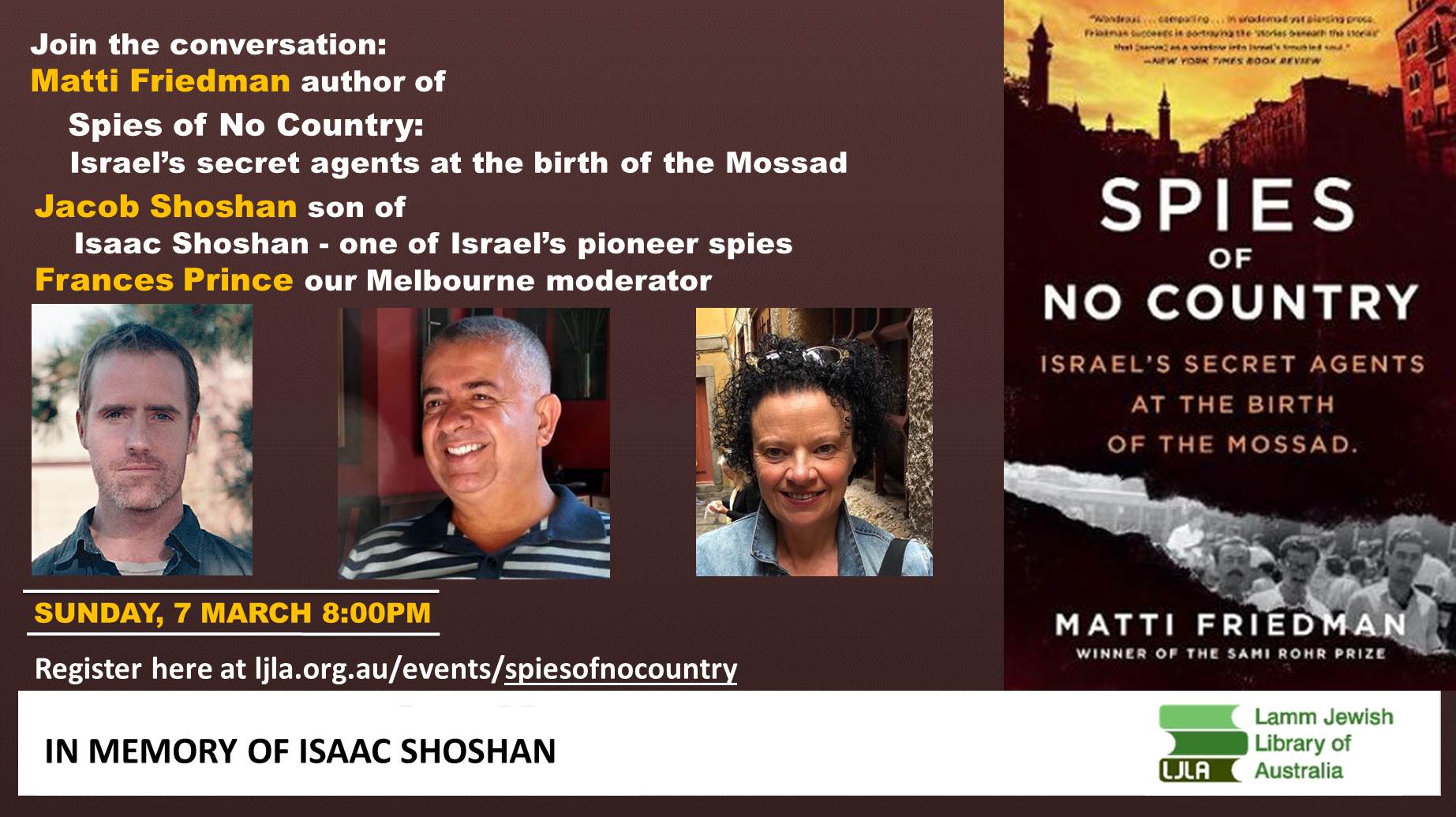 Spies of No Country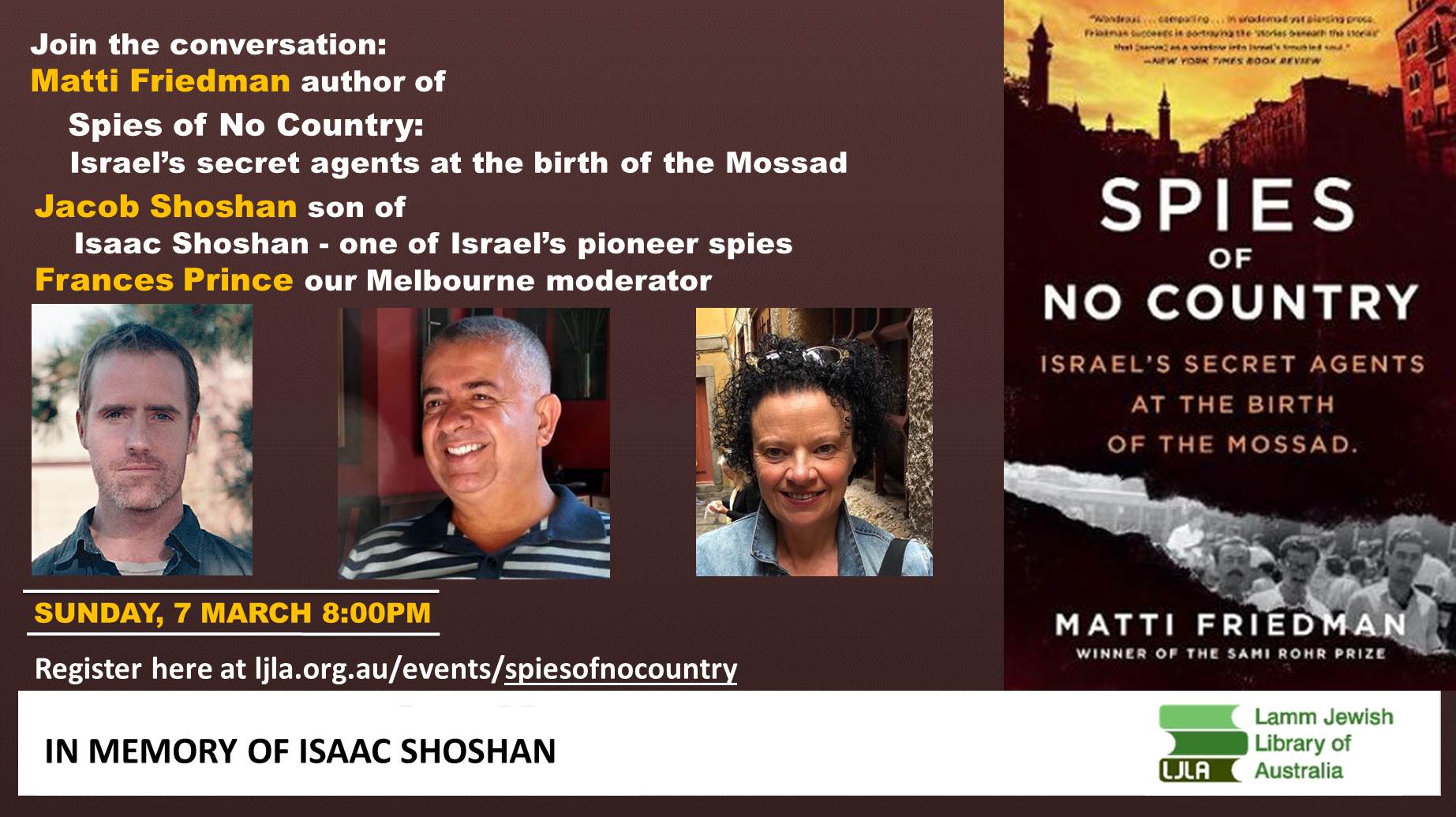 Join us on March 7 at 8:00PM to hear this incredible panel discussion about the book, Spies of No Country: Israel's Secret Agents at the Birth of the Mossad.
The panel discussion will host author of the book, Matti Friedman, alongside Jacob Shoshan, son of one of Israel's pioneer spies Isaac Shoshan. The discussion will be moderated by Frances Prince.
Spies of No Country is a tale of Israel's first spies with all the tropes of an espionage novel, including duplicity, betrayal, disguise, clandestine meetings, the bluff, and the double bluff – but it's all true. The four agents at the centre of this story were part of a ragtag unit known as the Arab Section, conceived during World War II by British spies and Jewish militia leaders in Palestine. Intended to gather intelligence and carry out sabotage operations, the unit consisted of Jews who were native to the Arab world and could thus easily assume Arab identities.
Matti Friedman is a journalist and contributor to the New York Times Op-Ed Section and the author of several non-fiction works. A former Associated Press correspondent, Matti's work as a reporter has taken him from Israel to Lebanon, Morocco, Moscow, the Caucasus and Washington DC. His writing has appeared in the Wall Street Journal, the New York Times, the Washington Post, Tablet Magazine and elsewhere. Two essays he wrote about media coverage of Israel after the 2014 Gaza war, for Tablet and The Atlantic, triggered intense discussion and have been shared on Facebook more than 130,000 times. He was born in Toronto and lives in Jerusalem with his family.
Jacob Shoshan is the son of Israeli intelligence officer Isaac Shoshan. Born in 1924 in Aleppo, Syria, Isaac emigrated illegally to Mandatory Palestine sneaking across the border with a group of Jewish youngsters. In 1945, he was recruited to the Palmach. Having become an active member of the Palmach, and as a native Arabic speaker with a suitable background and appearance, Shoshan was found fit to join the Special Operations unit of the Mista'arvim, also known as the "Arab Section". Shoshan and fellow members of the Arab Section created an espionage network that during the following two years transmitted valuable information to their operators in Tel Aviv and laid the foundations for Israel's espionage activities in Arab countries.
Frances Prince has spent her career in Jewish Education. Born and bred in Melbourne, her parents were Holocaust survivors from Poland, and with a background in Holocaust Education, she would co-found March of the Living, Australia. Frances sits on the Jewish Community Council of Victoria (rooftop communal organisation) holding the Multicultural and Interfaith Portfolio. In this capacity, she is on a number of interfaith boards and regularly meets and works with diverse groups in Melbourne.
The event will be facilitated via Zoom. Please make sure to register to receive your unique Zoom link.