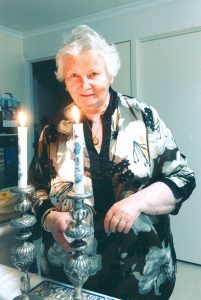 Mathel's mother, Ruth, was unwell when she was born, so her paternal grandparents took her home with them. They were to become her true parents after Ruth was murdered by the Nazis. On returning from three years in Palestine, her father, Leon, spent from 1937 to 1939 in three concentration camps before leaving for Singapore and then Australia, before his daughter was born.
Meanwhile her beloved Omi and Opa raised their granddaughter in Hamburg. Opa's detailed diary of her daily doings is a testament to the great love they had for her. They accompanied her to Melbourne where she joined her father's new family. A talented student, she studied German at the University of Melbourne, became a teacher, married and had two children, Colin and Annelies.
But she was to face many troubled times before finding peace. Highlights of her later years were meeting Harry, making her Bat Mitzvah at the Leo Baeck Centre in Kew, the births of her adored grandchildren, Sebastian and Leonardo, and many wonderful holidays in Europe.